Meet Dr. Justin Kim
Learning About the Benefits of Chiropractic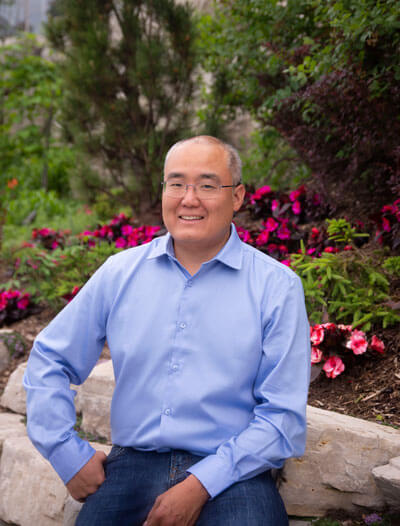 After a back injury at the gym, a friend suggested that Dr. Justin see his chiropractor. "I told him he was crazy! After a week and a half, he kept insisting, so I went. What struck me was the incredible benefits I got from what seemed like a simple, hands-on process."
Dr. Justin quickly learned your nervous system controls every cell, tissue, and organ in your body. When your nervous functions properly, your body remains strong and healthy. When your nervous system isn't working at its optimum potential, your body fails to adapt and sickness and dysfunction occur. Learning about chiropractic was enough to make Dr. Justin change the course of his studies. "I wanted to help others like I was helped."
Qualifying As a Chiropractor
Before becoming a chiropractor, Dr. Justin earned a Bachelor of Science from McMaster University in Hamilton. Then, he went on to Logan University in St. Louis, Missouri to obtain his Doctor of Chiropractic. Growing up as the son of small business owners, Dr. Justin knew that he wanted to start his own practice and have one-to-one contact with his patients. He opened his practice in 2001.
Dr. Justin practices as part of Nature's Vibe team of healthcare practitioners. It gives him the ability to share the expertise and resources of other healthcare practitioners and ensures his patients get the best care.
EXPLORE CHIROPRACTIC »

Enjoying Our Community
When he isn't in the office, Dr. Justin loves to spend time outside and be with his family. He and his partner, Wanda have a son, Carter. They enjoy going for long walks downtown or throughout our lush green spaces.
Dr. Justin is a member of the Cambridge Business Improvement Area, the local business association, and participates in events with the Cambridge Self-Help Food Bank. He is also a member of the Ontario Chiropractic Association and the Canadian Chiropractic Association. As an examiner with the Canadian Chiropractic Examination Board, Dr. Justin assesses chiropractic students for licensure.
Dr. Justin provides same-day bookings. Contact our office today to get immediate attention!
---
Chiropractor Cambridge | (519) 624-9450